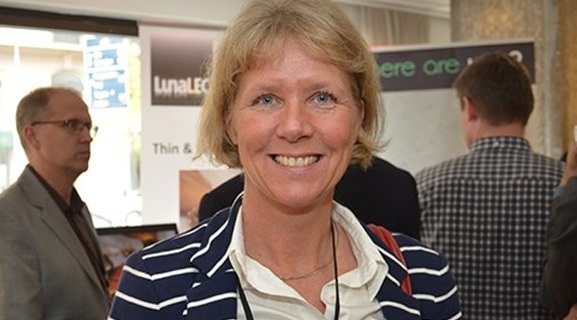 A good meeting here can result in million size investments
Publicerad 2014-05-15
Some 70 innovative start-up companies present themselves to investors and branch people. The interest for the event among international investors is greater than ever.
–  No other event in Sweden have been able to attract this much risk capital for start-ups in one room. This year we have 130 investors, and in all they represent more than 200 billion SEK. This is money that the Swedish entrepreneurs can gain access to, says Pär Hedberg, CEO and founder of STING.
Umeå companies at STING
Among the companies ther to meet investors are the three Umeå companies KriMag, Lunalec and Likvor, all companies sprung from Uminova Innovations incubator. This is the first year that Uminova Innovation have been  invited  to present companies at STING Day, and this is an important step, for the companies, for Uminova Innovations, and for Umeå itself, says Nils-Olov Forsgren, CEO  Uminova Innovation.
- This is an arena where Sweden's best incubator companies have a chance to show what they are about. And in turn they have the opportunity to meet risk capitalists from, not only Sweden, but from all over the world, explains Nils-Olov Forsgren, who him selves is there to see which contacts the companies make.
Incubator companies are noticed more and more

Companies sprung from incubators have become increasingly more visible during the last couple of years, partly thanks to the national incubator program- which contribute in acknowledging these companies. Umeå is doing well, when it comes to companies sprung from incubators. Uminova Innovation is one of the "Big 6", the six best incubators in Sweden.
- At Åre capital day we were represented by three Umeå companies, where Content Central pinched the second place in the pitch, informs us Nils-Olov  Forsgren.
- Many risk capitalists and investors have started to discover the incubators and we are good at spurring companies, continues Nils-Olov.
New possibilities to get in contact with capital
This is why it is important to participate in events like STING Day, which can present a multitude of possibilities for a new company in need of fresh capital. But at the same time it is important to be aware of that coming to an actual collaboration may be a long process.
– It is a long process. An investor may want to follow a company for 12, explains Nils-Olov Forsgren.
– But at the same time as the investors wants to get to know the company, the company needs to think about what kind of investors they want. To land an investor is a bit like a marriage, you have to share a lot, and need to feel comfortable with each other in addition to having the right chemistry. And it is also important that the investors can contribute with additional things, like competence, besides money.
Making connections
Maria Walllin Wållberg, at STING on Likvors account, is a veteran in this area, but previously she could be found on the other side of the fence, trying to find companies to invest in. She was, for many years, the regional director and vice CEO for innovationsbron, before she stepped over the fence to become Likvor's CEO. She is here trying to find investors for Likvor's product, a medtech instrument used for making a diagnosis for patients with a treatable dementia. A dementia that Likvor's instrument also can treat.
- I am here because I expect to make new contacts with investors. We need 2.5 million Euro for a market expansion with an establishment at neuroclinics and hospitals all over Europe, says Maria Wallin Wållberg.
With a completely finished product and 11 paying customers, Likvor have come a long way in comparison to most other start-up companies at STING Day.
-Now we need an expert in medtech that is interested in becoming a long term owner or partner in the company, says Maria Wallin Wållberg, who not only is there to meet investors but also for the opportunity to present the company to a panel of investor,s with a so called three minutes pitch
We need a wide network of investor, if I only have one to ask, and that one says no you, then you have run out of people to ask. This is why it is important that these are so many investors present here.
Looking for industrial investors
A few paces further in we find Lunalecs table, and the company's CEO Patric Stafshede. He has many opportunities to tell people about the company's technique for lighting, since there are many people lining up in front of their spot.
-We are here to get in contact with industrial investors, we need both competence and money. And things are going well, we have already had contact with investors that we are going to follow up on, says Patric Stafshede, who also inform us that they are looking for investors who are capable of investing 30 million in the company.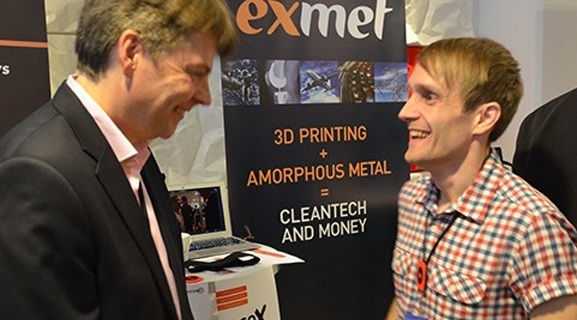 Nils Olov Forsgren, CEO Uminova Innovation and Krister Wiklund, KriMag 
A constant stream of investors
We find Krister Wiklund from KriMag a little further into the room. Also at their table there is a constant stream of investors, who want to know more about the company's technique which enable digital tracking of a person's training exercises, using a web-camera.
– It is very interesting to be here and to see how far other companies have come, but primarily it is important to talk to investor and show them our system during a live demonstration and show the principle.
-Hopefully we can meet good partners we can collaborate with regarding development or sales, says Krister Wiklund. The company is primarily looking for seed-investments, to recruit sales competence to the company.
STING Day is arranged by the business incubator STING/ Stockholm Innovation and growth) for the fifth year in a row. The purpose of the event is to support Swedish innovative start-ups in there ambition to build growing international companies.
Text: a translation of Mikael Hansson's Swedish text.
Photo: Mikael Hansson