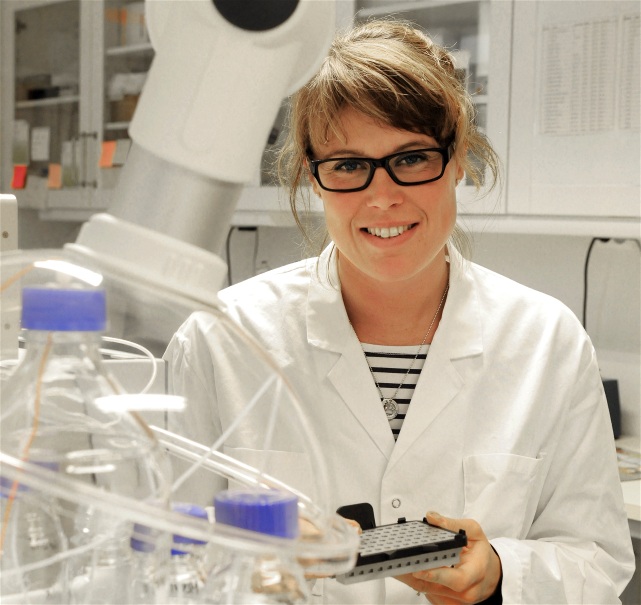 A patent and a Prince – a good month for Pernilla Abrahamsson and her innovation
Publicerad 2013-12-09
-  It acknowledges that I have a unique product, says Pernilla.
The idea behind Pernilla Abrahamssons product, Surface MD, now protected by both method and product patent for the US market, came by chance. A chance that hopefully will result in more accurate, faster and easier surveillance of severely sick patients during surgery and at the intensive care.
At the time Pernilla was working as a Biomedical  laboratory scientist at the Department of Surgical and Perioperative Science, Anesthesiology and Intensive care, Norrlands University Hospital, when she noticed that a catheter accidentally had slipped out and was lying on the surface of the heart- instead of being inserted, yet it still produced adequate and reasonable readings.
She immediately (in 2008) applied for patent for her invention, a patent which was approved at the end of October. During this process she has had had help from Anders Bergman, UBI's patent consultant.
– It is not just a matter of applying for the patent, it is a long and complicated process where I have had to argue that my product is unique.
Pernilla and her innovation is on a winning streak. This spring she was granted 680 000 SEK in Vinnverifiering by VINNOVA for the first step in actually developing her surface microdialysis catheter. Given that things continue to progress as planned, her project has a total of 2 million SEK earmarked for the steps needed to make sure that her innovation is ready for the market.
– The work with my invention took a great leap forward when I received support from Innovationssluss Västerbotten, Umeå Biotech Incubator and Uminova Innovation in 2011. Then I realized that my product actually met a need on the market, says Pernilla, who recently left her job as a project manager at Innovationssluss Västerbotten for a full time commitment to the progress of her innovation.
Surface MD will be manufactured in Germany and if all goes according to plans it will be available for clinical studies before summer 2014, the next step is to sell to hospitals all over the world. 
When you listen to Pernilla it is obvious that hers and Surface MDs journey is far from over "My goal is to have a company in Sweden with a distribution network in the Nordic countries". So far on this journey, which we are eager to see where it ends, she has acquired a wealth of experience. Experiences she willingly shared with both Prince Daniel and students at Umeå University on December 2, as they discussed and inspired future entrepreneurs.
Text: Ingela Hjulfors Berg and Karin Borge Renberg
Photo: Mariann Holmberg, Region Västerbotten