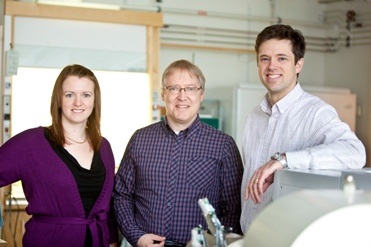 AcureOmics AB granted millions by EU
Publicerad 2009-12-02
AcureOmics will develop tools for routine assessment ("high throughput") of disease symptoms found in the liver and pancreas, both in animal models and patients with disturbed metabolism. The aim is to develop new treatment for related diseases, based on increased knowledge on individual disturbances in metabolism and the regulation of genetic and metabolic factors will affect the functions. In this way links between individual genotype and metabolic profile can be found that will primarily increase the understanding of development of diabetes BOLD will also generate new tools to assess individuals' response to treatment depending on genotype and "metabotype".
AcureOmics, part of Umeå Biotech Incubator (UBI), is based on leading research conducted at Umeå University, the Swedish University of Agricultural Sciences (SLU) and Uppsala University. In close collaboration with clinical researchers and molecular biologists AcureOmics will enhance the possibilities of finding slinks between genotype and changes in the metabolic profile.
- The fact that AcureOmics was selected as partner in an EU network shows that we are leaders in the field. The financing is a significant contribution for the development of our metabolomics research towards sample analysis techniques and will enable us to create a network with leading researchers within the field in Europe, says Jon Gabrielsson, CEO, AcureOmics AB. Jon Gabrielsson also admits that there is already a well working cooperation with several of the researchers at Umeå University and SLU. This has surely contributed to opening doors to EU research. Two researchers, Johan Trygg and Thomas Moritz are also on the board of AcureOmics.
- Of course it is a great pleasure for us as researchers to have the possibility to develop our research results in order to create benefit for patients, says docent Johan Trygg, senior lecturer at the institution of chemistry, Umeå University.
Johan Trygg and his research group are also part of the Computational life science cluster (CLiC,
www.kbc.umu.se/clic
), an interdisciplinary centre in chemometrics and bioinformatics at the university centre for Chemistry and Biology (KBC). He is a pioneer in multivariate data analysis, methods necessary for extracting information from the large and complex data sets that created.
Kickoff for the project will take place in Birmingham, 28-29 Jan 2010. In total there are 10 partners from eight different European countries that cooperate in the project. AcureOmics AB and the Hungarian company Biotecont are participating as industrial partners, so called SME, but AcurePharma AB from Uppsala and the world's largest pharmaceutical company Pfizer are also involved in the project.

About AcureOmics
AcureOmics AB is devoted to personalized medicine, systems biology including the "omics" fields of research and the areas of biofluid profiling. "Omics" is a collective term for research in the fields of genomics, proteomics and metabolomics. Services are provided in analysis of collected samples using NMR, MS and/or other techniques needed as well as multivariate data analysis of the complex data structures that result from such studies. AcureOmics is a company with unique competence in the "omics" field of data analysis and interpretation.