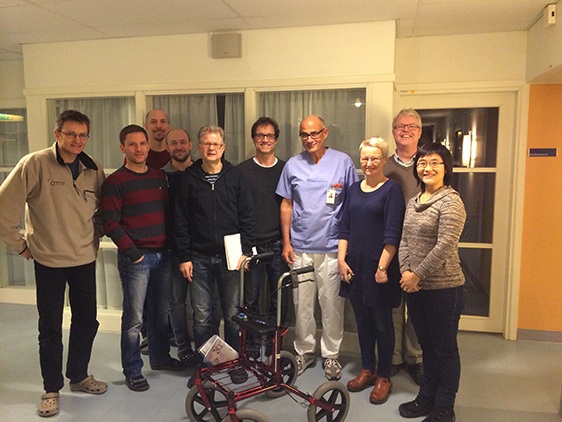 Developing an intelligent rollator
Publicerad 2014-02-13
The research project, headed by Thomas Hellström (Computing Science) is a collaboration between researchers from computing science, medical technology, stroke researchers and healthcare personnel, received a grant of 1.9 million SEK from the Kamprad family foundation.
200 000 Swedes are dependent on rollators
Rollators are of great help for disabled, or elderly people, with problems of maintaining their balance and or with a decreased ability to move, and in Sweden alone there is a total of 200 0000 rollator users walking about.  Though rollators increase the individuals' freedom to move, it also has its drawbacks, with a risk of tripping and falling accidents. This research project aims at decreasing that risk by developing an intelligent rollator.
People with cognitive impairments sometimes have problems maneuvering a traditional rollator. When turning, especially in narrow spaces, it is easy to hit furniture or door posts. And in long straight corridors the rollator tends to drift to one side and into the wall. The same problem is evident outdoors, it is difficult for the user to go walk straight ahead, and he/she may instead unintentionally go down curbs or into potholes or pits in the ground.
An automatic obsticle detection
– The technical solutions we propose includes an atomized detection of furniture, walls, pits and curbs, in addition to an autopilot which controls the direction via electric brakes, says Thomas Hellström.
One of the key criteria when developing the intelligent rollator, is that using it needs to be very similar to using a traditional rollator, since elderly people with cognitive impairments often find it difficult to get accustomed to new routines.
Another criteria is that the automated bearing control needs to be passive, in the sense that no engine should propel the rollator. Using muscle power the user should simply push the rollator in front of themselves and when drifting, the direction is automatically corrected by engaging one of the brakes on the back wheels. Engaging the left break results in a left turn- if the user in moving forward. As the brakes are engaged, sound and an altered feeling also make user aware of the situation. 
Thus, the automated system is designed to act in a similar way as an accompanying person, who sometimes would interact by alerting or intervening.
– We hope that the project results in prototypes and user tests, which should function as the foundation for a future commercialization of the product idea. We are also want to increase the awareness regarding this type of advanced technical walking aids.  The project will contribute to the development and accessibility of powerful, but relatively expensive, walking aids.
 
About the project:
The project is a collaboration between the institution for computer science and two research groups at  Norrlands University Hospital ; CMTS Center for medical technology and Radiation Physics, and Umeå Stroke Center (STR). In a combination with experience of robotics (UMU), medical technology development (CMTS) and user problem analysis and evaluation (STR)
The one year project have received a grant on 1.9 million SEK form the he Kamprad family foundation.
Per Wester from Umeå Stroke Center and Olof Lindahl from Center for medical technology and Radiation Physics are co-applicants.
Original  article (in Swedish):
 Mikael Hansson
Photo:
Kenji Claesson