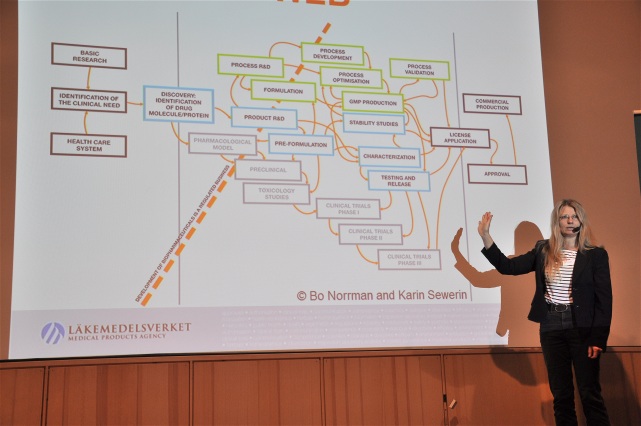 Network meeting next to a frozen river
Jonas Hansson, ALMI Nord, was first out. He informed the audience about how small and medium sized companies can cooperate with ALMI. ALMI can offer innovation advice and different kinds of financial support; examples from ALMI´S toolbox are Seed Capital, Innovation loans and Innovation checks. Jonas also discussed the difference between an innovation and an invention, and the extra pot of money that is set aside for female entrepreneurs.
Kurt Strömgren, Biotech Umeå/ Uminova innovation, informed the audience about the "affärsutvecklingcheckar"from Tillväxtverket, a type of financial support aimed at facilitating growth in SME companies. These checks can be as large as 500 000 SEK, but certain criteria need to be met. One of these criteria is that is that the company should have a turnover of 1 at least million SEK.
Susanne Balzter, the MPA, informed us about the MPA´s role and how the Innovation Office at the MPA can offer support in the progress of product development, by giving basic guidance on regulatory issues regarding clinical trials, pharmaceuticals and medical devices, as well as assisting you in contacts with the agency. The MPA offers counseling regarding both regulatory issues (free) and scientific counseling (free of charge for academic research, but not for companies). These were topics which inspired many questions and discussions. Susanne also advertised about the SME guide the MPA has on their website.
The audience pointed out the need for a better synergy between the European Medicines Agency, EMA, in Europe and the Food and Drug administration, FDA, in the USA.
Other questions concerned marketing authorization applications. For instance, if the need for new drugs in a certain field, could affect the speed at which an application is being processed. – No, Susanne informed us, the authorization process, where the MPA focuses on health benefits versus risk, takes approximately one year, regardless of how great the need is. Also the MPA does not consider economical aspects when it calculates risk versus benefit.