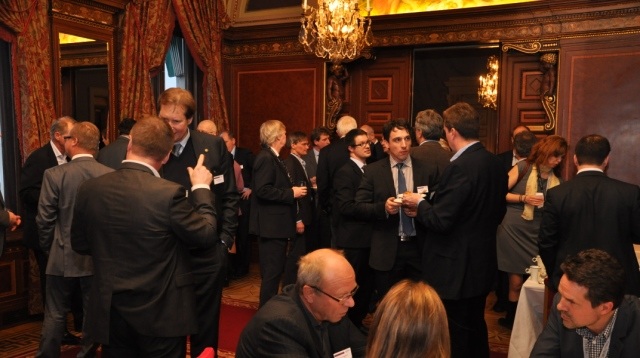 Over 50 partnering meetings during Biotech Umeå Investment Day
Publicerad 2013-02-06
Kurt Strömgren started with a brief presentation of Biotech Umeå, where he showed that the number of life science companies in Umeå has doubled in the last five years, to approach 80 companies today. Next, Andreas Vidman, sales manager at UmBio presented the company's journey from applications in the food industry to use in forensics. E.g. SKL uses UmBio's systems to find illegal drugs – their analysis times have been cut in half thanks to UmBio's systems. After presentations from Pernilla Abrahamsson, CEO of MD Biomedical, and Olle Hernell, CEO of LipUm, there was a networking break, since an important part of this yearly event at Grand Hôtel is to create opportunities for informal meetings between companies, investors and cooperation partners.
After the break, Jennie Ekbeck, CEO of UBI, gave an overview of the exciting projects at Umeå Biotech Incubator. She told the audience about the very good laboratory facilities within the incubator as well as the business development expertise that supports the projects. Örjan Norberg from Tanomed then explained how the company's soon-to-be-launched nasal spray is able to treat and prevent common cold by using a safe substance that is already used in many consumer products today. Stefan Nilsson from Lipigon presented how they are developing a potential first-in-class lipid drug. "To my knowledge, no one else has succeed in doing what we are doing, and there are no competitors working with the same target. In animal studies, we have been able to see dramatic effects on triglyceride levels and plasma cholesterol".
A pitch competition followed, where 9 companies from Umeå tried to best attract the attention of the investors and the wider audience. Every company had three minutes to their disposal, during which time they should present their business in as an informative and interesting way as possible. Probac, who are developing and selling probiotic products, emerged as the winner, and the first prize (sponsored by Sweden Bio) was participation at Nordic Life Science Days in Stockholm in October.
The day concluded with more networking and a 50-course buffet dinner at Grand's Veranda with specialties from Västerbotten.
Biotech Umeå Investment Day was arranged by Biotech Umeå in cooperation with Connect Norr, Umeå Biotech Incubator, Uminova Invest, Almi Innovationsbron, Västerbotten Investment Agency and Uminova Innovation.
Photo: Kurt Strömgren