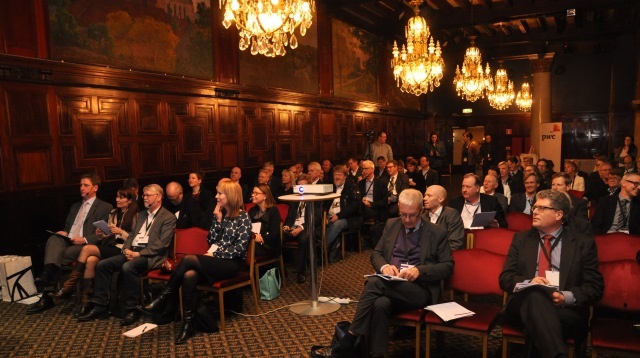 Over 60 meetings between investors and companies from Umeå
Publicerad 2014-02-11
All companies from Umeå also delivered a two-minute pitch in front of the whole audience of investors. In the afternoon, more investors and other guests arrived to participate in the afternoon program, which attracted a total of 85 people.
The afternoon program consisted of an interesting mix of presentations. E.g. Torbjörn Bäckström, CEO of the Umecrine group, talked about their strategy to finance several paralell drug development projects in the CNS area. They are currently concluding a phase II study in one of their companies, Umecrine Mood. Claire Ingram from Stockholm School of Economics explained what crowd-funding is all about and gave examples of how it has been and could be used in the life science sector. Gunnar Pohl, the founder and CEO of Nordic Biomarker, gave an interesting presentation about how his company's journey from the incubator to Deloitte's Technology Fast 50 list in November last year. With a growth of 464% (2008-2012), Nordic Biomarker was ranked as number three in the category Biotech/ Pharmaceuticals/ Medical Equipment. And all this has been achieved by growing organically. "The positive results have allowed us to devote more resources to develop new products for the future", explained Gunnar Pohl.
The program concluded with a panel discussion on the theme "Financing challenges in the life science sector – how to bridge the gap between "soft" money and venture capital", and the moderator Einar Pontén together with a panel consisting of Johan Mårtenzon, (PwC), Claire Ingram (Stockholm School of Economics), Hedvig Andersén (Industrifonden), Petter Alapää (Norrlandsfonden) and Torbjörn Bäckström (Umecrine) debated possible solutions to this important question.
The day continued with more networking and a 50-course buffet dinner at Grand's Veranda with specialties from Västerbotten.
Biotech Umeå Investment Day was arranged by Biotech Umeå in cooperation with Connect Norr, Umeå Biotech Incubator, Uminova Invest, Almi Innovationsbron, Västerbotten Investment Agency and Uminova Innovation. The event was sponsored by PwC and Norrlandsfonden.
Webcasts are available from the different parts of the event (company pitches and presentations from the afternoon program).
Please follow the links below:
Biotech Umeå Introducing Investment Day at Grand Hôtel
https://vimeo.com/85426167

20140130 – Company Pitches – Biotech Umeå Investment Day at Grand Hôtel
https://vimeo.com/85428547
20140130 – Samples from the pipeline – pitches from three new projects at the Umeå Biotech Incubator
https://vimeo.com/85643438
20140130 – Umecrine company group – a strategy to finance several paralell drug development projects in the CNS area, Torbjörn Bäckström, CEO and Professor
https://vimeo.com/85644970
20140130- Nordic Biomarker – From the incubator to one of Sweden's fastest growing technology companies, Gunnar Pohl, CEO
https://vimeo.com/85660473
20140130 – Crowdfunding in Biotech – problems and possibilities, Claire Ingram, PhD candidate, Stockholm School of Economics
https://vimeo.com/85661721
20140130 – Panel discussion – Financing challenges in the life science sector, – how to bridge the gap between "soft" money and venture capital. Johan Mårtenzon (PwC), Claire Ingram (SSE), Hedvig Andersén (Industrifonden), Johan Tysklind (Crowdcube), Petter Alapää (Norrlandsfonden), Torbjörn Bäckström (Umecrine) 
https://vimeo.com/85664584
Photo: Kurt Strömgren