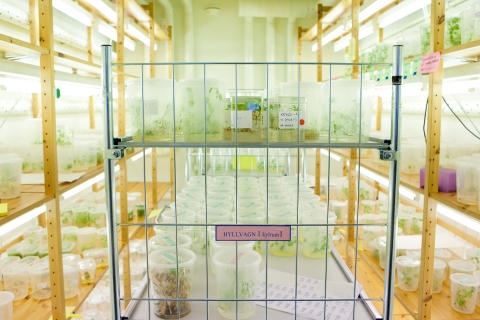 SweeTree Technologies makes a profit and starts collaboration with Fibria in Brazil
Publicerad 2014-06-24
SweTree Technologies (STT) has started long term collaboration with Fibria, the largest Eucalyptus bleached pulp producer in the world. The purpose with the collaboration is to use STT's technologies to further strengthen the breeding work for Eucalyptus that Fibria has worked with for more than 40 years, thus increasing the value of the produced wood in Fibria's plantations. The increased value can for example be due to increased wood production, better water use efficiency or improved wood quality.
SweTree Technologies (STT) made a profit of 509.000 SEK for 2013 with a turnover of approximately 42 million SEK, up 50 % from the previous year. This is the first time the company makes a profit since the start in 1999.
"We have during a long time systematically invested the owners' capital to build a world class technology base." says Mats Johnson CEO of STT. "In parallel we have built a business which mainly consists of collaboration projects with partners all over the world but also certain selected products, e.g. we have a large collaboration with Fibria in Brazil. We have now reached the point when we have balance between revenue and costs which gives us good stability to further expand our business."
To further improve the platform for growth, the owners have made a new share issue adding 16 million SEK to our cash position. At the same time STT has extended the agreement for five years with the more than 30 cutting edge scientists at five universities in Sweden who work in close collaboration with STT.
SweTree Technologies (STT) is a world leading forest biotechnology company who develops technologies for one of the big challenges for the future: in a sustainable way increase the production of renewable forest resources with a high breeding value to be able to a higher degree than today replace products based on non-renewable resources. STT collaborates with companies in Sweden as well as in many countries around the world with the purpose to build-in our technologies in their products.
http://swetree.com/swetree-technologies-makes-a-profit-for-the-first-time-at-the-same-time-as-the-collaboration-agreement-with-the-more-than-30-senior-academic-scientists-is-extended-and-a-new-share-issue-is-closed-nett/
http://swetree.com/swetree-technologies-starts-long-term-collaboration-with-fibria-in-brazil/