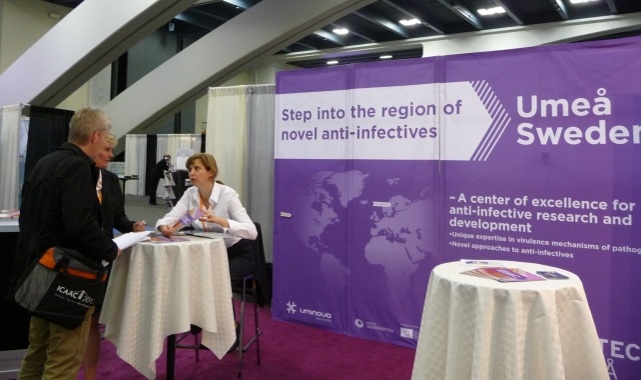 Umeå's expertise in anti-infectives gets attention in San Francisco
Publicerad 2012-10-11
Invest Sweden, together with the Swedish Embassy and VIA, also arranged an evening seminar with prominent speakers in connection to ICAAC. The theme of the seminar was "No action today, no cure tomorrow". The event attracted, among others, venture capitalists from Silicon Valley and decision makers from pharmaceutical companies active in anti-infective research.
Challenges in the development of new antibiotics
Rickard Bergström, Director General  of the European Federation of Pharmaceutical Industries and Associations (EFPIA) said in his presentation that the challenges to get new antibiotics out on the market were three-fold – the scientific bottlenecks, caused by this being a very difficult research area; the regulatory challenges, since many of the guidelines were not adapted to the development of new antibiotics; and finally the challenges regarding reimbursement – how should the expensive development be paid for in a reasonable manner, when  new antibiotics are expected to be used very restrictively. This calls for cooperation between companies, governments, regulatory agencies and the health care system.
Innovative Medicines Initiative
David Payne, VP Antibacterial DPU at GSK, said that they primarily work with resistant, gram-negative bacteria, which cause serious or life-threatening infections. He also gave a brief overview of Innovative Medicines Initiative (IMI), a partnership between the EU commission and EFPIA. Within the new research program  NewDrugs4BadBugs, GlaxoSmithKline, AstraZeneca, Janssen, Sanofi och Basilea Pharmaceutica will, with a joint budget of 220 million Euro, work together with public actors to strengthen the knowledge of antibiotic resistance and to develop and execute clinical trials and clinical development of new candidate drugs.
During the event, there were many interesting discussions between Swedish and foreign company representatives and researchers. "The goal is to achieve cooperation, and there is a great interest from abroad in the Swedish competence within infectious diseases research" explains Björn Ursing from Västerbotten Investment Agency.
Text and photo:  Magdalena Krajewska