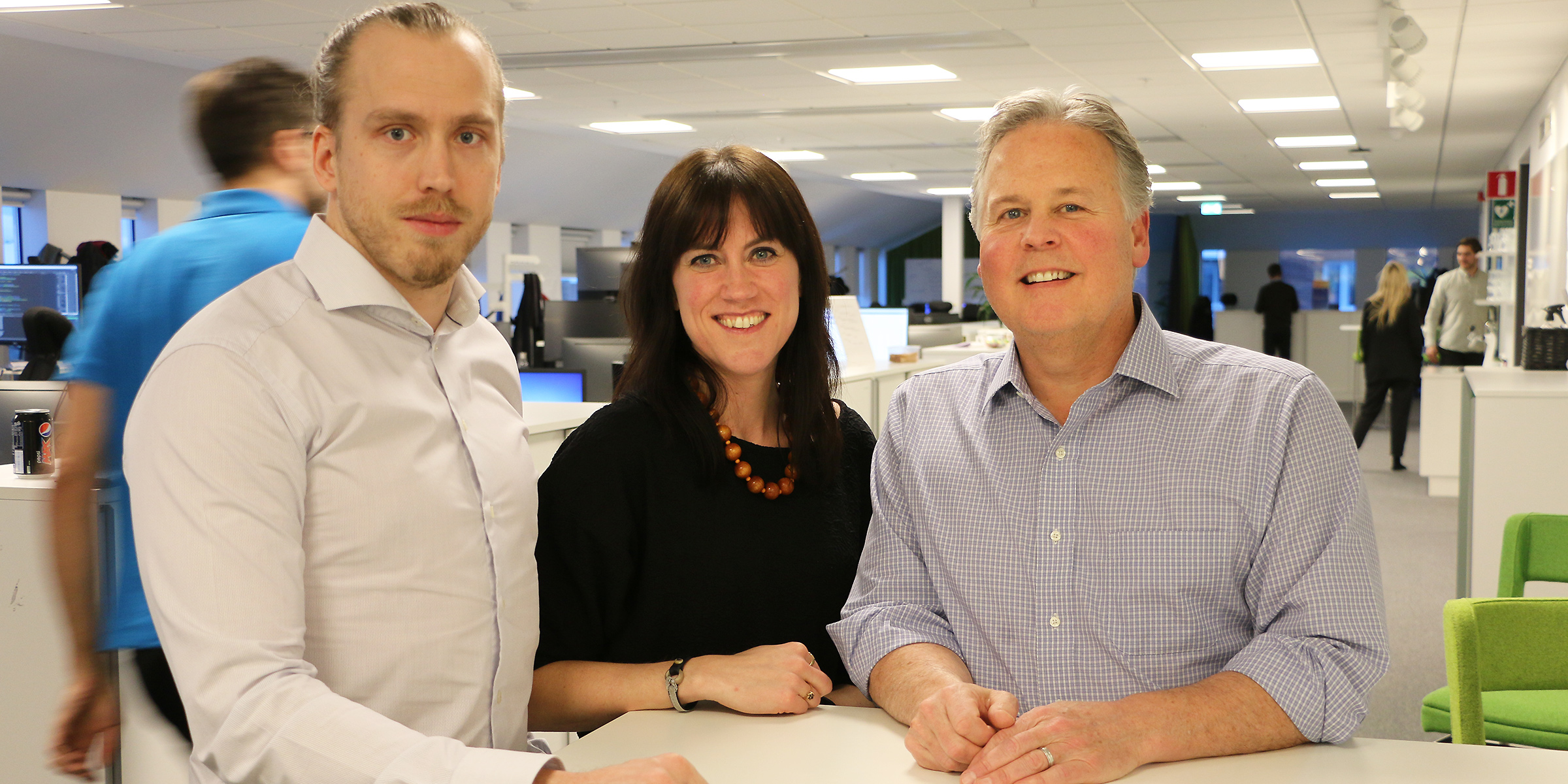 Nasdaq chooses Umeå for its new office
Publicerad 2019-02-04
It is his first visit in Umeå and Brad Peterson, CTO Nasdaq, is already impressed. "Umeå is forward thinking," he says, after meeting with the skilled developers at the Cinnober office and representatives from the Umeå University.
Cinnober in Umeå is a core engineering center, with 87 employees, growing from 34 in 2012. The head quarter is in Stockholm, and with Umeå as a deep skilled office, Nasdaq acquired Cinnober a couple of weeks ago.
Acquiring Cinnober
"We have hired a lot of Cinnober folks before and we know they are good. When you look at acquisitions you always have to look at geography and culture, the talent and the Nordic culture have always impressed us. We have confidence in that we can bring Nasdaq and Cinnober together to something better. We have a pipeline of new customers and new products, both for Nasdaq and Cinnober," Brad Peterson says.
With the Nasdaq brand we can add even more global awareness to the city and Umeå University.
Nasdaq has had a large office in Stockholm for years. However, the company also wanted to have a second location in Sweden in a university city. With the acquisition of Cinnober that city will now be Umeå.
International reputation
"This is my first time in the office in Umeå and it is really impressive. Umeå is forward thinking. The university has a growing international reputation and I think that with the Nasdaq brand we can add even more global awareness to the city and Umeå University," Brad Peterson says.
Cinnober in Umeå has been growing with 10 employees every year since 2012. That is a growth that will continue, according to Brad Peterson.
"I think the source of growth for us in Umeå will be from the University and the Umeå Institute of Design. We have talked about the engagement we can have with master students and a PhD program in the AI space," Brad Peterson says.
Nasdaq is a company that has a lot of data and they are applying machine learning to the products for trade surveillance. A machine intelligence team in Umeå will tap into the university.
"In our other offices we have relationships in Boston with the MIT, we have relationship with Stanford, with Colorado School of Mines, we have a history if doing this and think it is very effective. We take problems that are interesting for both the university and research, and our company and customers. We really try to link it to our customers and problems we can solve jointly," Brad Peterson says.
Advanced cloud solutions
The company Minium, a spin off from Cinnober, is also a part of the acquisition. The Minium group is building cloud native solutions and post trade risk management products, delivered in the cloud.
"We see a tipping point where globally a lot of customers are getting comfortable with the cloud. Cloud is the appropriate location for data-intensive applications, especially when you are integrating together multiple organizations. The cloud is the natural neutral spot to do a lot of aggregation and surveillance and risk management."
Brad Peterson explains that the cloud is being more and more adopted by the financial service customers Nasdaq has, and it is also an area with rapid innovation.
Umeå University has a well-known reputation for its cloud research group at the Department of Computing Science, a fact that Brad Peterson is aware of. The research group participates frequently in large-scale national and international collaborations and is one of the leading in Europe in its area.
"We are happy to say that we found the cloud knowledge here in Umeå already. There are a lot of evidence that the students are coming out with pretty decent cloud skills."
With Cinnober's and Nasdaq's joint customers in Asia, India, the Middle East, the US and elsewhere, Umeå may now await exciting things to happen, at least if Brad Peterson's plans come through.