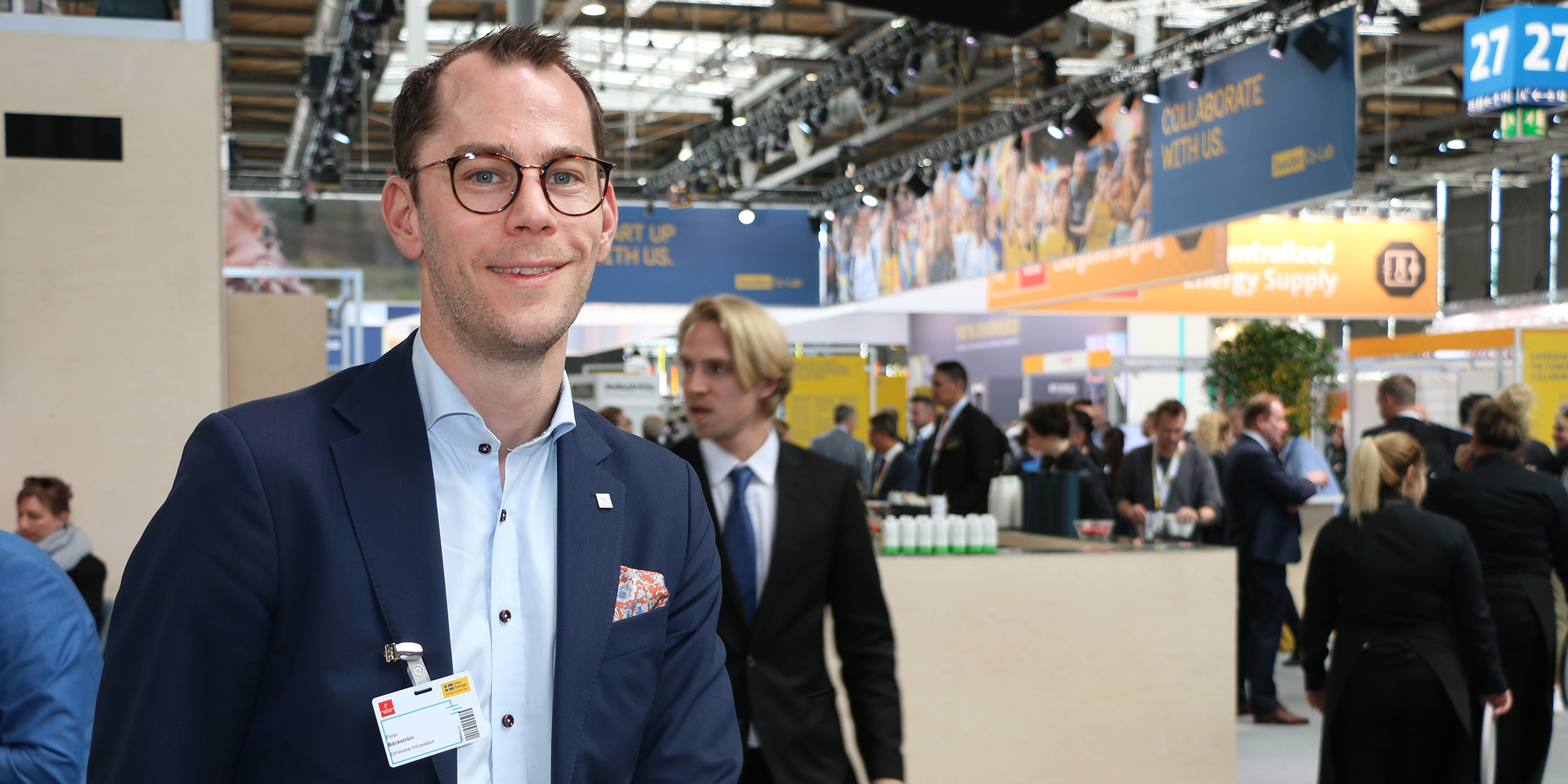 A long-term investment
Peter Bäckström, business developer at Uminova Innovation and the Enterprise Europe Network, believes that fair visits should be seen as a long-term investment. Here he is at the Hanover Fair, the world\'s largest industrial fair, where Sweden this year is a partner country.
This year, Sweden is making a major investment in the Hannover Messe, the world\'s largest industrial fair with over 200,000 visitors. Sweden is a partner country, which means an extra large visibility in the program. There are almost 160 Swedish companies in place, many of which are startups.
At the fair Peter Bäckström, business developer at Uminova Innovation and the Enterprise Europe Network, supports startups and other companies, not least to find international business. One of Peter\'s tasks during the days is to give attention to the startup company Piczitup from Umeå.
Piczitup has developed a crane that enables loading and unloading of goods on small pickups and at the same time leaves the limited loading surface. It is a unique design that occupies less than 10 cm of the effective loading surface. Piczitup is one of nearly 40 companies selected by the national initiative Ignite Sweden for the Hannover Messe. This means extra help with booking meetings and not least a valuable day trip to Volkswagen\'s factory in Wolfsburg together with Prince Carl Philip.
Plan your participation
"If you want to get the most out of participating in such a big fair as this is, you cannot just rely on luck," says Peter Bäckström, where he stands in the midst of the huge Hannover Messe. Or rather, right in the middle of the Hall 27, which is only one of the many large halls in the area. The fair is so huge that there are buses for the attendees between the hangars. The digital map on the phone seems to be a safe security for most people.
"Before such a fair, you need to decide in advance who you want to meet, book meetings that are relevant and keep an eye on exhibitors who are interesting," says Peter Bäckström, who has extensive experience of joining some of Europe\'s largest exhibitions.
"But try to meet other people than sales people. They may not be the best to talk with for a startup," Peter Bäckström continues.
Use the networks
He also recommends startup companies to make use of the networks and pre-booked meetings organized by organizations such as Enterprise Europe Network, Ignite Sweden or Business Sweden.
An important role that Peter Bäckström and his colleagues can give is to help startup companies choose between all the offers they receive.
"Otherwise, they can easily drown in offers. We can help prioritize," he says.
Takes the Prime Minister\'s word
During the first day of the Hannover Messe, the Swedish companies met with Prime Minister Stefan Löfven. Peter Bäckström would like to refer to the speech made by the Prime Minister.
"He encouraged the Swedish participants not only to count the number of orders that could come in during a fair. Also, try to think that participation in the fair is a more long-term investment," says Peter Bäckström.
"This applies not least to startup companies at such a fair. One gets to put their first seed and build up new networks. The learning itself is important, that you come home with more experiences," says Peter Bäckström.