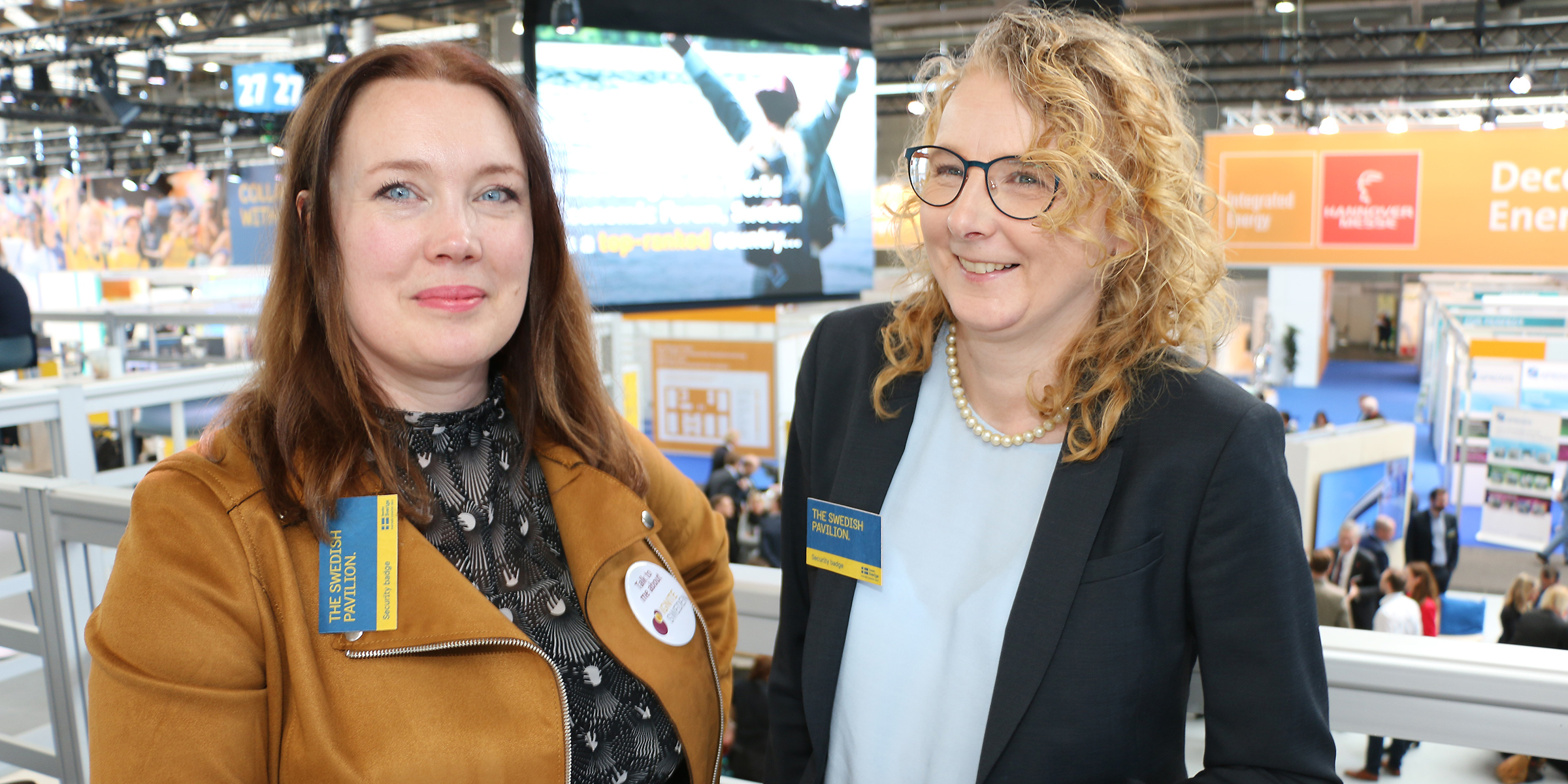 Making way for Swedish startups
Publicerad 2019-04-04
The Hannover Messe is a great place to be for Swedish startups aiming for global businesses. Ignite Sweden and SISP take a lead.
When Sweden is a partner country for the Hannover Messe on April 1-5, 2019, a large number of startups comes along to establish contacts and find international business. Ignite Sweden and SISP, Swedish Incubators & Science Parks, are two organizations that have invited nearly 40 startups to this world\'s largest industrial fair.
A successful first test shot
At the Hannover Messe, the startup companies participate in a unique matchmaking to increase the opportunities for business with large companies through a qualified matching process. The key to success is that the startups are offered concrete meetings with large companies.
"This is a first test shot for us going international. This is the first time we bring the startup companies for matchmaking outside Sweden," says Stina Lantz, responsible for Ignite Sweden.
We meet her and Kajsa Hedberg, CEO of SISP, upon the large roof veranda in exhibition hall 27 where Sweden has built up its Co-Lab. Co-Lab is the concept of Sweden\'s participation in the Hannover Messe, the aim and focal point is all about collaboration and cooperation. In almost every speech and presentation held at the well-attended Swedish stage, the words are repeated – without cooperation, innovation will not take place.
Upstairs on the veranda, sofas and standing tables have been placed out to give the startup companies some peace and quiet from the busy noise on the fair floor when they are having their meetings with big companies.
Meetings based on trust
"Innovation grows in the interface between different actors such as the public sector, academia, large companies and startups. We initiate meetings that are based on trust, that is a winning factor that make a difference," says Kajsa Hedberg.
The matchmaking is a Swedish model that gives echo internationally, not at least counting the results. Stina Lantz says that the initiative within Ignite Sweden has already given 46 commercial collaborations between large companies and Swedish startups.
As the word is out, more companies want to join.
"Only on this very day, we have been approached by three additional large international companies that want to meet Swedish startups. They have heard the buzz about us being here, and that we have great business focus," says Stina Lantz.
Study visit with the Prince of Sweden
One of the study visits that startup companies are invited to during the Hannover Messe is one at the Volkswagen factory in Wolfsburg. Prince Carl Philip of Sweden participates, which naturally adds extra color to the event.
"Getting to meet the Volkswagen Group is a great opportunity for our startup companies. Many people have already started several commercial collaborations after a visit that Volkswagen made in Sweden in November last year," says Stina Lantz.
"Now we are looking forward to even more business with many companies," she continues with a smile.