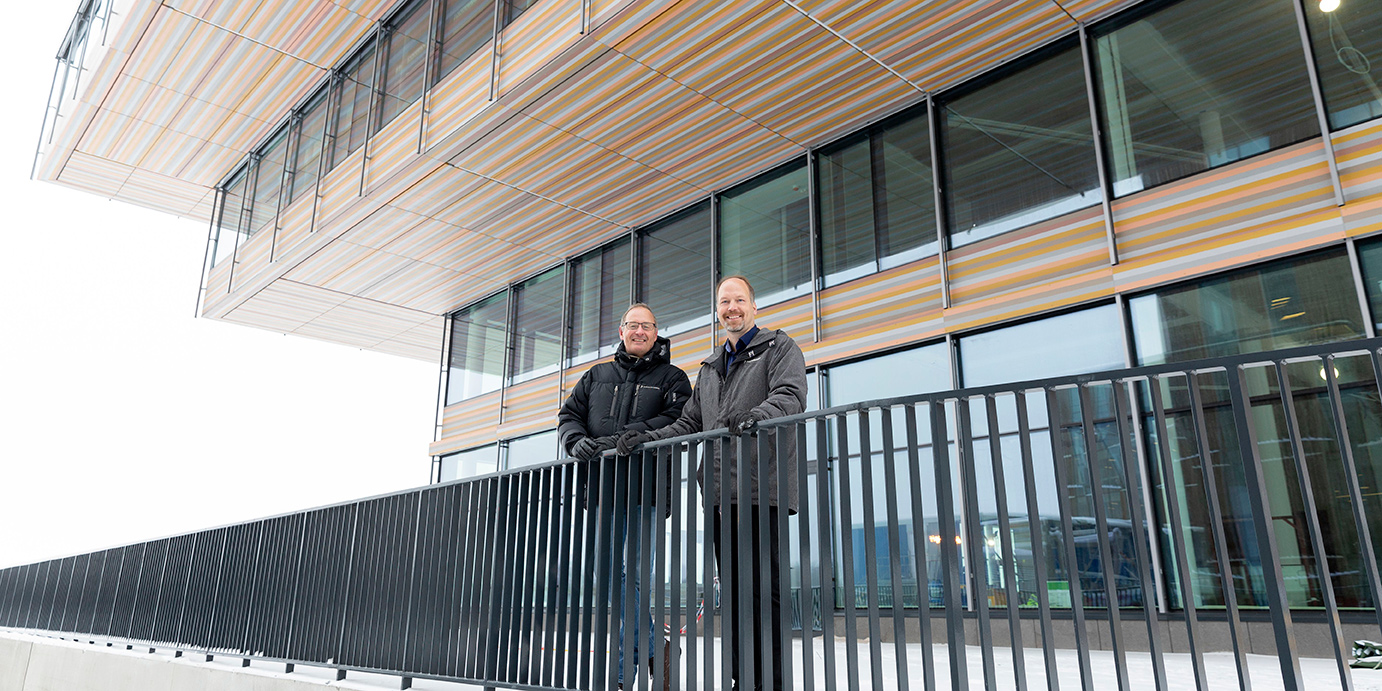 Sartorius to relocate in Umeå
Publicerad 2019-04-29
The office building under construction is advantageously located in the Laxen block, between Umeå Arts Campus and the Kyrkbron bridge.
Following the acquisition of the software company Umetrics in 2017, Sartorius, a leading international partner of biopharmaceutical research and the industry, has been preparing for the further growth of its digital and data analytics development teams in which the Umeå site plays an important role within the Sartorius Group. Relocation to the new office building provided by Balticgruppen will enable Sartorius to fulfill its vision of bigger, more open and more advanced premises. The building, designed by architect Gert Wingårdh, is scheduled to be completed in the spring of 2019, and Sartorius plans to move in at the end of summer.
"We are very excited that Umeå will play a key role in the digital transformation journey within the Sartorius Group, primarily through innovation and expansion into new digital tools. We have an ambitious recruitment plan to grow our team in Umeå as the region provides strategic growth opportunities in IT, software and engineering. With the new office, we are creating an inspiring space for both growth and innovation," said Johan Trygg, Head of Advanced Data Analytics, Corporate Research, Sartorius Group.
"I'm happy that Balticgruppen with its new office building can meet Sartorius' vision of its future premises. We are looking forward to continuing our good cooperation with Sartorius in its expansive development, where we together design attractive and flexible premises for their operations and employees," says Roger Granberg, Head of Property Management at Balticgruppen
"We are pleased that Balticgruppen has been able to help us find a more modern environment for our future endeavors. Because of its expertise, Umeå is one of the most important Sartorius sites for digitalization and data analytics that drives our customers forward. The region plays an important role in terms of the talent pool of well-trained young people and the close proximity to two excellent universities," commented Oscar-Werner Reif, CTO of the Sartorius Group.
A profile of Sartorius
The Sartorius Group is a leading international partner of biopharmaceutical research and the industry. With innovative laboratory instruments and consumables, the Group's Lab Products & Services Division concentrates on serving the needs of laboratories performing research and quality control at pharma and biopharma companies and those of academic research institutes. The Bioprocess Solutions Division with its broad product portfolio focusing on single-use solutions helps customers to manufacture biotech medications and vaccines safely and efficiently.
The Group has been annually growing by double digits on average and has been regularly expanding its portfolio by acquisitions of complementary technologies. In fiscal 2018, Sartorius earned sales revenue of around 1.57 billion euros. Currently, more than 8,100 people work at the Group's approximately 60 manufacturing and sales sites, serving customers around the globe.